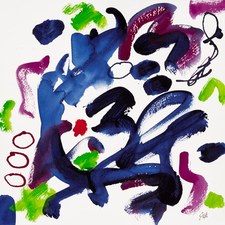 2022 Exhibitions and Events
In Motion: Lois Eby and Judith Wrend at Highland Center for the Arts in Greensboro, VT. June 11 - July 24.

Lois Eby in Color and Ink: video projections to accompany a concert by William Parker, Hamid Drake, and Cooper-Moore on June 22 at Vision Festival 2022 in New York.

2019 Exhibitions and Events
Lois Eby: Studies in Rhythmic Vitality. Vermont Supreme Court Gallery, Montpelier, VT. July 2 - September 27.

2018 Exhibitions and Events

William Parker: Voices Fall from the Sky. 3 CD boxed set with Lois' work on front, back and booklet. AUM Fidelity: Brooklyn, NY

Lois Eby: Lois speaks about her work at Bryan Memorial Gallery, Jeffersonville, VT, at an event sponsored by River Arts of Morrisville, VT, and Sun Dog Poetry Center of Jeffersonville, VT.

2017 Exhibitions and Events

Lois Eby: Lost Nation Theater Lobby Gallery, Montpelier, VT, September 8 - 22

William Parker: Meditation/Resurrection. 2 CD set with Lois' work on the front and back of the album. AUM Fidelity: Brooklyn, NY

Ongoing: gallery artists at West Branch Gallery, Stowe, Vermont

2015 Exhibitions and Events

Ongoing: Exhibit of gallery artists at West Branch Gallery & Sculpture Park, Stowe, VT.

Cover Drawing. David Budbill, After the Haiku of Yosa Buson. Kanona, New York: Foothills Publishing, 2015.

September 10 - 13. New York's Affordable Art Fair. Work included in the West Branch Gallery Exhibition Booth. The Metropolitan Pavilion, 125 West 18th Street (between 6th and 7th Avenues). For more information about the Fair go to: http://affordableartfair.com/newyork/

2014 Exhibitions and Events

VOICES IN THE FIRST PERSON: Art and Language of Lois Eby, Anne Humanfeld, Jo Wood-Brown, and Marilyn Sontag. Four interviews with 4 women artists, conceived and created by William Parker. Illustrated. New York: Centering Music, 2014. Book release event at Under__Line Salon, New York, Oct. 11, 2014. Available at Amazon and at Galaxy Books, Hardwick, VT.

WGBH Art Auction at auction.wgbh.org/ One work by Lois selected by juror for the online auction and for the WGBH Art Walk. The work shown at the Martha Richardson Gallery at 38 Newbury Street in Boston from July 22 - 27.

Lois Eby: Chasing the Blues. Central Vermont Medical Center. January 28 - March 28.


Selected Past Solo and Featured Exhibitions

2013
Lois Eby: New Work. Upstairs at West Branch, West Branch Gallery & Sculpture Park, Stowe, VT, August 3 - 26.

se * lec * tion. Invitational show of women artists at SOHO20 Chelsea,
547 West 27th St., Suite 301, New York, NY. January 2 - 26.

Ongoing. Show of gallery artists at West Branch Gallery & Sculpture Park, Stowe, VT.

2012
Improvised! Lois Eby 2006 - 2011. SUNY Adirondack, Queensbury, NY, February 23 - April 12. Opening Reception with poetry reading in the gallery
by David Budbill.

Directions: Color, Line, Space. Recent work by Eby, Gruhler, and Stark. White Water Gallery, East Hardwick, VT, July 15 - August 19.

2011
Lois Eby at the Vermont Arts Council's Spotlight Gallery, Montpelier, VT.
March 4 - April 28.

2010
Lois Eby and Judith Wrend: Energy in Space. Featured Show at West Branch Gallery & Sculpture Park, Stowe, Vermont. July 10 - August 15.

Lois Eby: Visual Jazz. Galerie Maison Kasini, Montreal, Quebec. June 23 - July 24.

2009
Grand Opening Galerie Maison Kasini. September 18th & 19th, 2009.
Belgo Building #408, 372 Ste Catherine West, Montreal, Quebec.
Gallery Artists. www.maisonkasini.com.

Lois Eby at the Supreme Court. Supreme Court of Vermont, 111 State Street, Montpelier. July 3 - August 28.

Lois Eby: Fourteen Works 2000 - 2007 at The Dibden Center for the Arts, Johnson State College, Johnson, Vermont, January 18 - May 18.

2008
Lois Eby at Claire's. Hardwick, VT. September 4 - October 28.

Lois Eby and Paul Gruhler: Paintings at 215 College Gallery, Burlington,
VT, February 1 - February 28.

2007
William Parker: Universal Tonality; Part V: On Being Native. Video Projection of Lois' drawings and paintings in conjunction with a performance at Nativity Church, 44 2nd Avenue between 2nd and 3rd Streets, New York City, 4 p.m. The performance features a string quartet, vocalist, poet David Budbill, and dancers. December 16.

Gallery Artists. West Branch Gallery & Sculpture Park, Stowe, Vermont.

2006
Painter's Winter. Live, improvisational painting in response to a performance by William Parker, Sabir Mateen, and Daniel Carter. Amherst Unitarian Meeting House, Amherst, MA., December 2nd.

Spontaneous Acts: Art Out of Line. Lois Eby, Nori Morimoto and Tari Swenson. West Branch Gallery & Sculpture Park, Stowe, Vt, March 25 - May 28.

2004
Bee's Knees Cafe, Morrisville, Vermont. March.

2003
Warebrook Contemporary Music Festival, Invitational Show, Irasburg, VT

Open Studios, Wolcott, Vermont

2001
Open Studios exhibition with Judith Wrend, sculptor, Morrisville, VT

2000
Brown Library Gallery, Sterling College, Craftsbury Common, VT

Open Studios exhibition with Judith Wrend, sculptor, Morrisville, VT

1999
Tribes Gallery at A Gathering of the Tribes, 285 East 3rd, New York, NY, October 2 - 27.

Flynn Theatre Gallery Space, Flynn Theatre for the Performing Arts, Burlington, Vermont

1997
Brown Library Gallery, Sterling College, Craftsbury Common, VT

l995
The Renaissance Cafe, Hardwick, VT

l993
Gallery at Lost Nation Theater, Montpelier, VT

Quimby Gallery, Lyndon State College, Lyndonville, VT

l992
Julian Scott Memorial Gallery, Johnson State College, Johnson, VT

l988
Catamount Arts Center, St. Johnsbury, VT

Moon Brook Arts Union, Rutland, VT

l986
Craftsbury Room, Royall Tyler Theater, University of Vermont, Burlington, VT

l985
The Wood Art Gallery, Montpelier, VT

St. Paul's Cathedral, Burlington, VT

l984
Vermont Conservatory of the Arts, Montpelier

l982
Governor's Corridor, Montpelier

l981
Granite Hills Photography Gallery, Hardwick


Selected Group Exhibitions
2011
Women's Work: The Visual Art of Vermont's Women. Invitational Show at T.W. Wood Gallery & Arts Center, Vermont College, Montpelier, VT. August 16 - September 25.

HGTV Dream Home 2011, Stowe, VT. Two paintings by Lois Eby in the Master Bedroom. To view a self-guided tour of the house go to: http://www.hgtv.com/dream-home/index.html.

Galerie Maison Kasini at Papier11: The Contemporary Art Fair of Works
on Paper. Montreal, Quebec, April.

2010
Galerie Maison Kasini at Papier10: The Contemporary Art Fair of Works
on Paper. Montreal, Quebec, April 15 - 18.

Gallery Artists. West Branch Gallery & Sculpture Park, Stowe, Vermont.
Ongoing.

Release of RETN (Burlington, VT, Channel 16) video interview with Lois Eby in the RETN series The Artist.

2009
Art of Vermont: The State Collection. River Arts, Morrisville, Vermont, and Catamount Arts, St. Johnsbury, Vermont.

Picture That Poem. Two works in a group show at Studio Place Arts, Barre, Vermont, January 20 - February 28.

Gallery Artists. West Branch Gallery & Sculpture Park, Stowe, Vermont.
Ongoing.

Les Invasions Barbares (Invasion of the Barbarians). Galerie Maison Kasini,
Montreal, Quebec. October.

2008
Gallery Artists. West Branch Gallery & Sculpture Park,
Stowe, VT. Opening August 2nd.

Be There Be Square. 18" x 18" works by gallery artists.
West Branch Gallery & Sculpture Park, Stowe, VT. May/June.
2007
West Branch Gallery & Sculpture Park, Stowe, Vermont. Song in Three Parts, a triptych in ink and acrylic on paper in a show of gallery artists.

West Branch Gallery & Sculpture Park, Stowe, VT. Two new paintings, works painted in live concert with William Parker, Sabir Matteen, and Daniel Carter in Amherst, MA, in 2006, in a show of gallery artists.

Art of Music. Group show at Studio Place Arts, Barre, Vermont. March 6 - April 14.

Tamarack Gallery Summer Show. East Craftsbury, VT

2006
Objects of Desire. November 13. Invitational Art Auction to raise funds to help preserve the 33-year archives of "Artists Talk on Art." Chelsea Art Museum, New York.

Tamarack Gallery Summer Show. East Craftsbury, VT

2005
small works. Invitational show at SOHO20CHELSEA Gallery, 511 West 25th Street, New York. www.soho20gallery.com. November 29 - December 17.

sense of another place. Gallery artists. west branch gallery & sculpture park, Mountain Road, Stowe, VT. Opening: Friday June 17, 2005, 5 p.m. - 8 p.m.

The Tenth Annual Vision Festival, at Orensanz Art Center: 172 Norfolk St. (just south of Houston). New York: Vision Festival Tenth Anniversary Group Exhibition. www.visionfestival.org.

Small Works Spring Showing. BigTown Gallery, 99 Main Street, Rochester, VT. Opening May 28. Contact: anni@annimackay.com or 802.767.4231.

Tamarack Gallery. Summer show. East Craftsbury, VT. July 2 - September 4.

Spring 2005 Members' Show. West Branch Gallery & Sculpture Park. Stowe, Vermont. 802.253.8943.

2004
The 9th Annual Vision Festival. New York: The Center, 268 Mulberry Street between Prince and Houston. Jazz, contemporary and world music, dancers, poets and visual artists. www.visionfestival.org.

Open Spectrum. National Juried Show focused on color at the The T. W. Wood Gallery, Montpelier, VT

Drawing Invitational Show. Warebrook Contemporary Music Festival, Irasburg, VT.

Gallery on the Green, Shelburne, Vermont. Group show.

Tamarack Gallery Summer Show. Tamarack Gallery. East Craftsbury, VT.

2003
Rhythm, Color, and Harmony: A Juried Art Exhibition. Presented by IAM (Incorporation of Artists on the Move) in connection with the JVC Jazz Festival. At three galleries in New York City.

Contemporary Drawing. National juried show at T.W. Wood Gallery, Montpelier, Vermont.

Air. Tamarack Gallery, East Craftsbury, VT, invitational show of four artists.

The South End Art Hop. Burlington, Vermont

2002
Red Hot. Invitational show at Studio Place Arts, Barre, VT

2001
From the Ashes. Invitational show at C.U.A.N.D.O., 9 Second Ave., New York, NY. sponsored by "Arts for Art," 13 October - 4 November Tamarack Gallery Members' Show, East Craftsbury, VT

2000
Rose Street Gallery Annual Invitational, Burlington, VT

Flynn Dog Gallery, Burlington, VT, Art related to the Death Penalty, Invitational curated by Roy Levin.

1999
Fifteen Artists: Ten Years of Dialogue, The Wood Art Gallery of Vermont College, Montpelier, VT

1997
Off the Beaten Track: Drawings of Working Vermont, Juried by Janet Fish, The Chaffee Art Center, Rutland, VT

1996
Healing Art: From the Inside Out, VWCA juried show, Trinity College, Burlington, VT

Helen Day Art Center, show of 5 artists, Stowe, VT

1995
Chaffee Art Center, Rutland, VT, juried show of 6 artists

1994
The Wood Art Gallery, Montpelier, VT, Juried show

1991
Art's Alive, Juried show of Vermont artists, Burlington, VT

l987
Invitational Show of Large Work, The Wood Art Gallery, Vermont College Arts Center, Montpelier, VT

Ink Drawing - First Annual National Competition, National Drawing Association, Salmagundi Club, New York, NY

Vermont Women's State Fair, Juried Show of Women Artists

Art Show '87, Norwich University Annual Juried Art Show, Vermont


Work for Print, DVD and Audio

William Parker: Wood Flute Songs, boxed set of 8 CDs, Anthology/Live 2006 - 2012; released October 12, 2013. Features art work by Lois on box cover and booklet. See www.aumfidelity.com.

On Being Native. Release of an updated DVD which includes Lois' ink drawings for David Budbill's Judevine poems, an original score for string quartet by William Parker and poems written and read by David Budbill. 2012-2013.

Happy Life by David Budbill, published by Copper Canyon Press, Port Townsend, WA, 2011.
Cover art. For more go to: http://www.davidbudbill.com/chain.html.

Inquiring Mind: A semiannual journal of the vipassana community. Fall 2006. Three paintings reproduced in this issue the focus of which is Freedom. Berkeley, CA. 

WILLIAM PARKER QUARTET: Sound Unity (AUM034). AUM Fidelity, Brooklyn, NY, 2005. Paintings featured on Booklet and Tray Card. For more go to: http://www.aumfidelity.com/home.htm.

America Zen: A Gathering of Poets. Ed. with an Introduction by Larry Smith and Ray McNiece. "Enso" on Title Page and Back Cover. Huron, Ohio: Bottom Dog Press, 2004.

Mayor of Punkville. William Parker & the Little Huey Creative Music Orchestra. CD from AUM Fidelity, Brooklyn, NY, 2000. Three paintings featured on Booklet and Tray Card. For more go to: http://www.aumfidelity.com/aum015.html

Swords that Shall Not Strike: Poems of Politics and Rebellion, by Kenneth Rexroth. Geoffrey Gardner, ed. Cover Drawing. Thetford, Vermont: Glad Day Press, 1999. For more go to: http://www.gladdaybooks.com/swords.htm

Vermont Life Magazine, winter 1991-92, summer l993, pen and ink drawings

Why I Came to Judevine, by David Budbill, 1987, White Pine Press, 76 Center Street, Fredonia, NY, 14063. For more go to: http://www.davidbudbill.com/yicame.html

Kindling, an anthology of poems from Vermont Gatherings, l987, Montpelier, VT.

The Horses of Time, by Jules Supervielle, Geoffrey Gardner, trans., 1985, Tamarack Editions, 131 Fellows Avenue, Syracuse, New York, 13210.

From Down to the Village, by David Budbill, l98l, The Ark, 35 Highland Avenue, Cambridge, MA, 02139. For more go to: http://www.davidbudbill.com/vill.html

Pulp Cutters' Nativity, by David Budbill, 1981, Countryman Press, Box 175, Woodstock, VT, 05091. For more go to: http://www.davidbudbill.com/pulp.html

The Chain Saw Dance, by David Budbill, 1977, Countryman Press, Box l75, Woodstock, VT, 05091. For more go to: http://www.davidbudbill.com/chain.html

Collections

SUNY Adirondack Art Collection, Queensbury, NY
Vermont State Art Collection
Mac-Gray Corporation, Waltham, MA
Paterson Collection, Barre, VT
Mark Waskow Collection, Vermont
Copley Hospital Collection, Morrisville, VT
Vermont College of Fine Arts, Montpelier

Online Juried Listings
The Painting Center Art File. The Painting Center, 547 West 27th Street, New York.

Gallery Affiliation
West Branch Gallery & Sculpture Park.
17 Towne Farm Lane
Stowe, Vermont